It comes as some of the largest firms in the world including Google take bold steps to redefine and strengthen their claim of being 100pc powered by clean energy.
In days gone by this typically meant tallying up total electricity consumption and purchasing an equal amount of carbon-free energy (CFE) to offset the difference.
However, as the climate debate intensifies the needle has moved. A series of brave companies and city authorities are aspiring beyond simply offsetting, instead matching their consumption with CFE production every hour of every day, all year long – running on clean energy 24/7.
While a significant leap forward, in practical terms the concept is dependent on consistent and readily available clean energy sources. The current challenge being that the two most heavily utilised technologies – wind and solar – have intermittent power profiles, naturally only available when the sun shines and the wind blows.
During periods when the sun is down or the wind slows, there simply isn't enough renewable energy, so demand is currently typically covered by expensive natural-gas peaker plants. Prices and supplies swing wildly. Markets don't like it. And adding more wind and solar only exacerbates the effect.
In order to achieve long-term success, Google and other adopters will have to look elsewhere for carbon-free energy that's available when the sun and wind fall short. This is where new and emerging technologies like wave power enter the frame. Alongside other ocean energy sources like tidal it offers a highly consistent, predictable and complimentary power profile, that combined with wind and solar can provide zero-carbon energy systems with much less variability. This offers an accelerated path to resilient, secure and low cost zero-carbon electricity.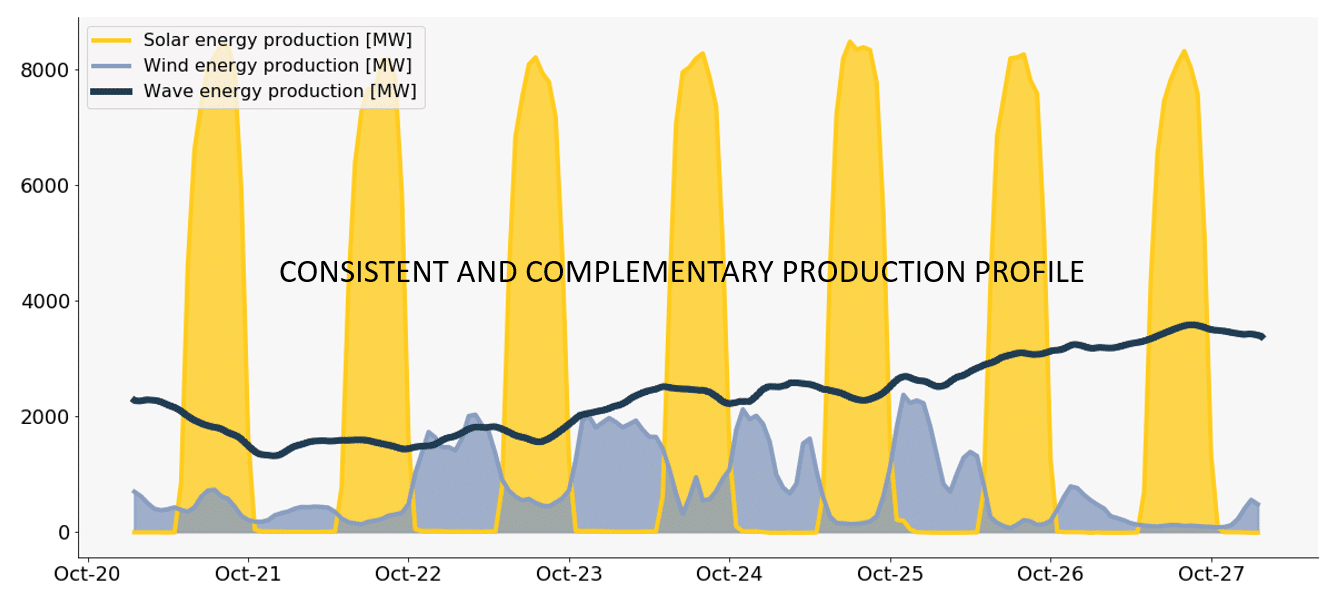 With the advent of initiatives like 24/7 carbon free-energy each megawatt of additional CFE produced during lean solar and wind periods will be more valuable. Timing matters. In this sense we expect to see a paradigm shift with greater value being placed on when CFE is produced, rather than purely cost and quantity.
A recent article in Volts provides a fascinating in-depth account detailing the growing appetite for 24/7 carbon free energy with major entities across the US.
Those committing include: Peninsula Clean Energy (a community choice aggregator in California) by 2025; Google, Microsoft and the Sacramento Municipal Utility District have targeted 2030; the Los Angeles Department of Water and Power and the city of Des Moines, Iowa have targeted 2035. Ithaca, New York is also rumoured to be contemplating something similar.
In addition, just months ago, a broad international group of more than 40 energy suppliers, buyers and governments launched the 24/7 Carbon-Free Energy Compact – providing a set of principles and actions that stakeholders across the energy ecosystem can commit to in order to drive systemic change.
As this narrative gathers pace, we anticipate greater awareness of the growing role which wave energy can play in the 24/7 CFE movement, with its consistent, reliable, grid-balancing power profile