CorPower Ocean is a turnkey supplier of wave energy systems. We design, manufacture, and deliver our technology as CorPack wave clusters with 10-20MW capacity.
CorPower Ocean is a turnkey supplier of wave energy systems. We design, manufacture, and deliver our technology as CorPack wave clusters with 10-20MW capacity.
Build your wave farm using our modular CorPack offering.
CorPack consists of:

— Wave Energy Converters
— Mooring system
— Anchors
— Electrical collection system
— Remote control and communication

CorPack includes everything you need to generate electricity from ocean waves.
CorPacks are used as building blocks that are laid out side-by-side to form larger wave farms that can be hundreds of megawatts to gigawatt scale. The electricity from each CorPack is exported through a collection hub, that makes it plug-and-play with offshore wind.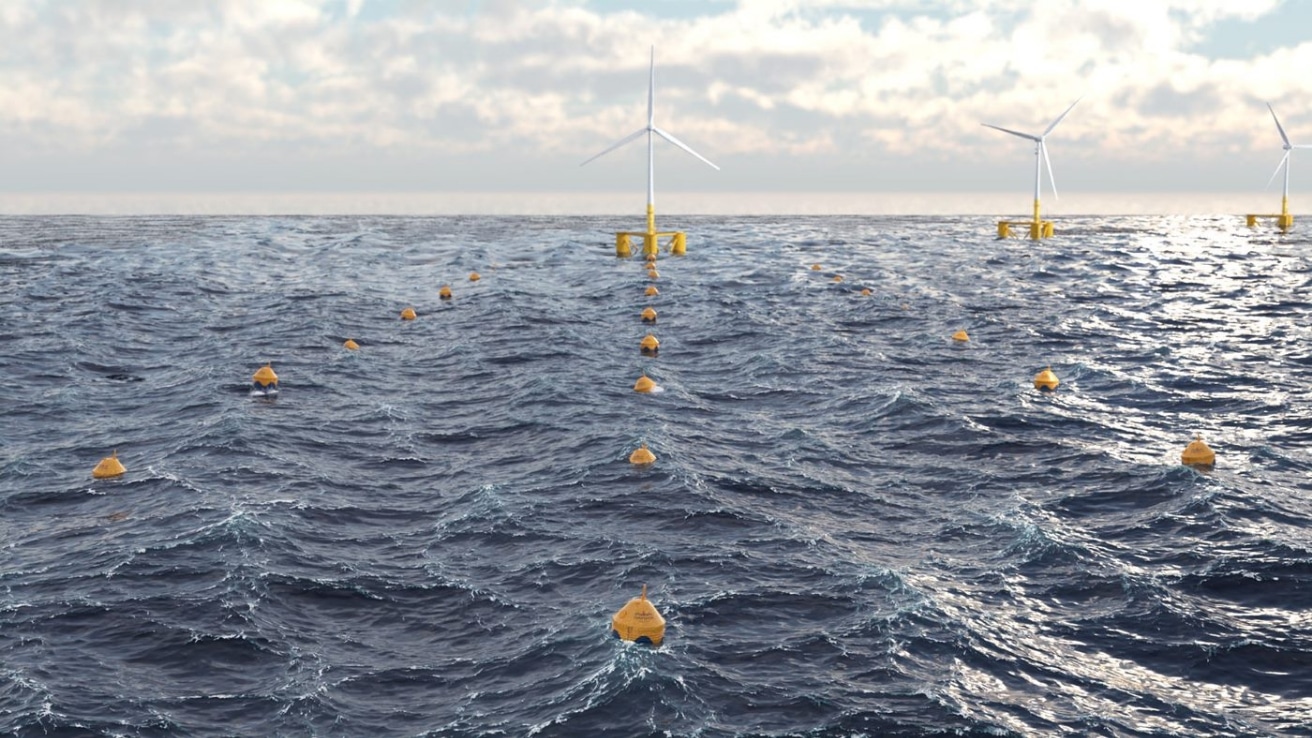 CorPacks can be used as building blocks either for stand-alone wave farms or hybrid wave-wind farms sharing the electrical export infrastructure and delivering a very consistent combined power profile. Hybrid wave-wind farms have the potential to deliver a more valuable power profile that enables higher average revenues, while unlocking cost reduction from shared electrical infrastructure, operations and maintenance teams and vessels as well as combined project development.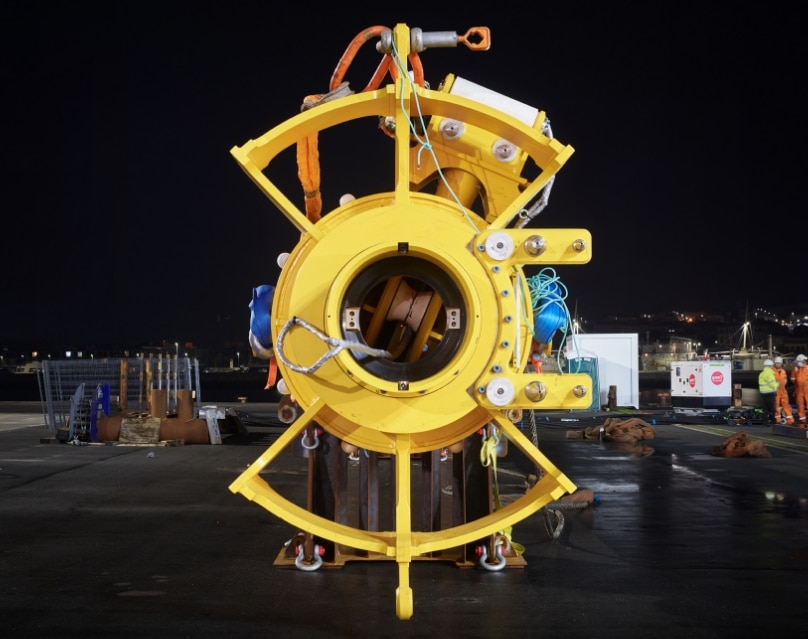 Our UMACK anchor is a ground-breaking geotechnical innovation. It outperforms gravity anchors and conventional monopiles both in terms of holding capacity and greatly reduced costs and carbon footprint. It is installed with a high-speed and low noise method using a vibro-hammer. A UMACK anchor can be installed into sand or mixed sand/clay sediment seabed in less than 10 minutes.
Wave farms based on CorPack technology have little visual impact, with devices protruding less than 10m above sea level. This increases social acceptance from local communities as farms located only a few kilometers out do not impact the view from shore.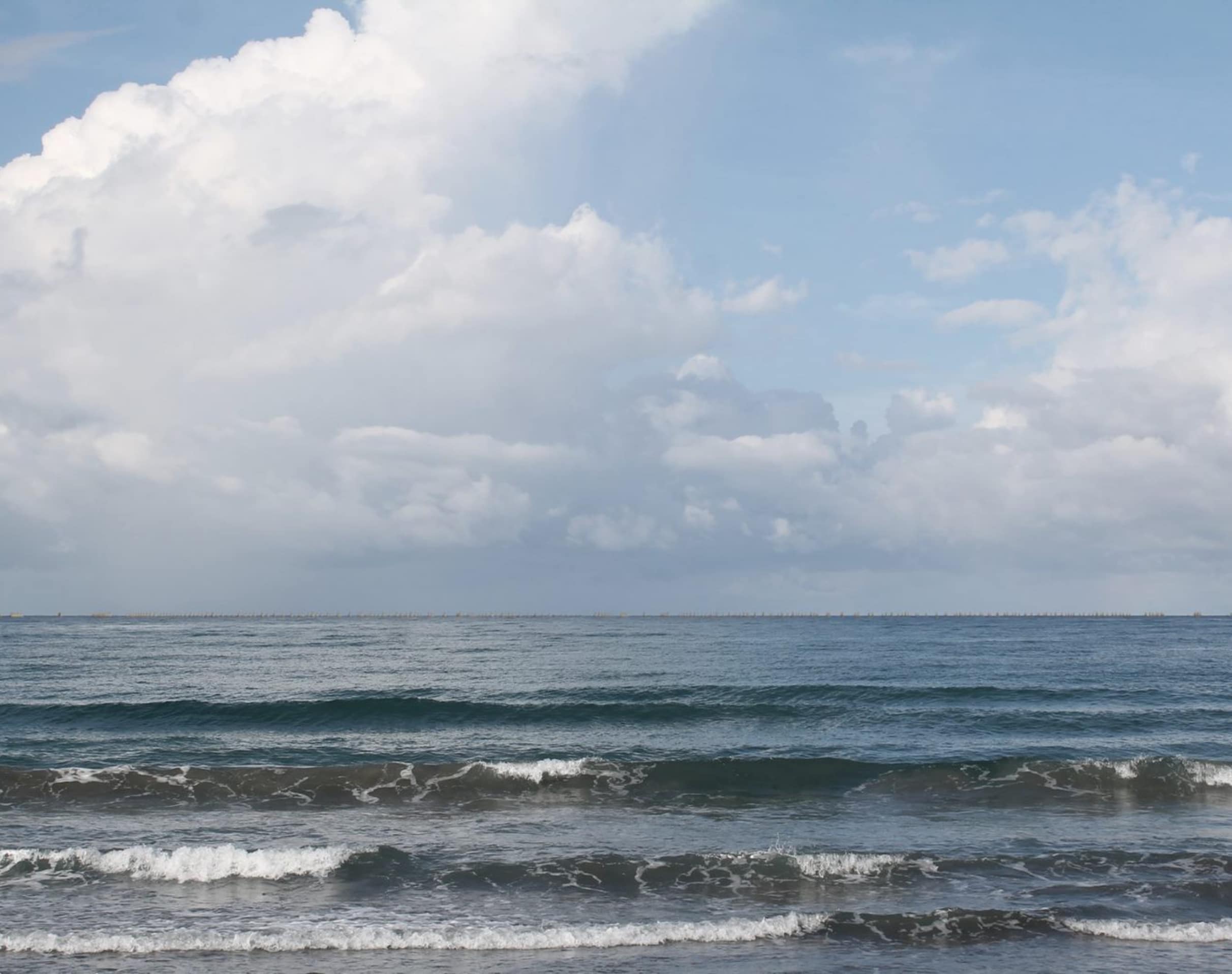 Modular and efficient use of ocean space.
With a spatial density of 15 MW/km2, these wave farms can deliver 3-5x more power from the same ocean space compared to a typical offshore wind farm. Each device is quite small compared to a modern offshore wind turbine. The high-density clustering is what makes this so powerful. Just like batteries are made up by many small cells packaged in modules, our wave clusters make use of many small identical wave devices. This modular approach allows efficient industrial roll-out, and economies of scale to kick-in early. It also enables local supply chain to be used to construct, install and service the wave farms, providing high local content through the entire project life-cycle.
We bring the
factory to you.
The spheric composite hulls are fabricated using a unique Mobile Factory concept. An automated additive process is used to build up the strong and lightweight structures, adding fibers layer by layer with a method optimized for low-cost volume manufacturing.

Delivering wave energy farms, we will be moving these mobile factory cells to our customer sites, produce the number of buoy hulls needed for the project, then move the cells over to the next customer site. This saves significant cost and carbon footprint by eliminating transport. It is also key for creating local jobs and delivering high local content in projects.
CorPower Ocean is a turn-key technology and services provider offering solutions for wave energy projects that span the entire project lifecycle, from development to decommissioning.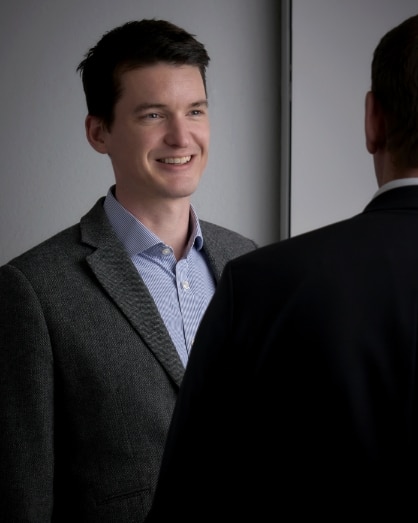 We offer our capabilities in the site selection process, for the initial business case assessment to gain understanding of wave energy's suitability based on available wave energy resource, local conditions and energy production profile. In addition, we can offer in depth studies of the opportunity in relation to the system value the project could offer.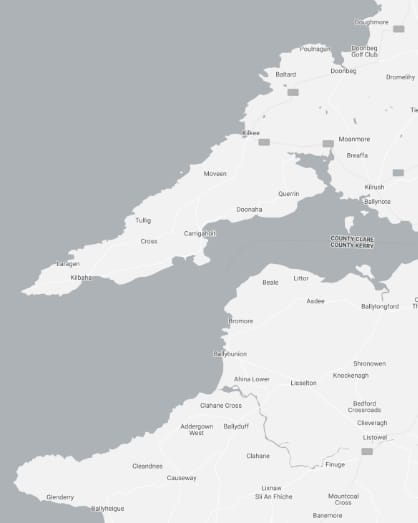 CorPower Ocean supports customers with farm engineering services through the project development steps; typically involving Pre-FEED, FEED and Detailed Design. This stage include yield assessment, cost of energy modelling, system engineering, electrical architecture and design of project financing package.
Delivery and installation of Wave Energy Converters, mooring systems, tidal compensation units, anchors, intra-array cables and floating collection hubs. Until O&M of wave energy systems become mainstream, customers are envisioned to rely on Corpower Ocean to ensure up time and reliable operation.
Simply Blue Group is developing the pioneering Saoirse project off the coast of County Clare, West Ireland.
CorPower Ocean's flagship HiWave-5 project is the result of a decade of product development and three decades of research on wave hydrodynamics.