Fokus ligger på små och medelstora bolag inom blå ekonomi, det vill säga bolag med hållbar havsbaserad verksamhet. 20 bolag hade blivit utvalda att presentera inför ett stort antal investerare, politiker och ledande branschmänniskor. Bland de 20 bolagen blev svenska CorPower vinnare i kategorin "Clean Energy from the Ocean". I juryn satt erfarna investerare från b.la USA och Skottland.
"Det är kul att vårt arbete med att göra vågkraft till en tillförlitlig och konkurrenskraftig energikälla blir uppmärksammat. Europa tillför betydande investeringar vilket stärker sektorn och vi har alla anledningar att vara positiva om framtiden", säger Anders Jansson – Commercial Director på CorPower.
EU har identifierat "The Blue Economy" som ett prioriterat område som en del i "The Green Deal" där EU ska bli klimatneutralt till 2050.
European Investment Fund (EIF):s verkställande direktör, Alain Godard, sa: "Haven erbjuder enorm potential för ekonomisk tillväxt, men denna tillväxt måste vara hållbar. Investeringarna i Blue Economy-sektorn som vi undertecknade i dag visar hur offentliga medel i EU kan användas för att locka till sig privata investeringar och katalysera utvecklingen av denna sektor. Jag är mycket glad över att vi nu kan lansera BlueInvest-fonden som kombinerat med ytterligare privat kapital kommer att bidra till att driva Europas Blue Economy-agenda."
Vågkraft nyckelkomponent för att nå klimatmålen  
En av de största utmaningarna världen har framför sig för att nå helt förnyelsebara energisystem är att garantera att det finns tillräckligt med el under årets alla timmar, även då solen inte skiner och vinden inte blåser. Här erbjuder vågkraft unika fördelar med en jämnare och mer förutsägbar produktion, som kan fylla hålrummen då det inte finns tillräckligt med el från sol och vind. Som ett exempel har Kalifornien satt som mål att vara helt fossilfira 2045. Med vågkraft i mixen kan mängden balanskraft och lagring sänkas drastiskt, genom att erbjuda en naturlig balansering mellan produktionskällorna som möjliggör ett stabilt fossilfritt elsystem med lägre kostnad för konsumenterna.
— END —
For more information please contact:
Anders Jansson, Commercial Director, CorPower Ocean
anders.jansson@corpowerocean.com | +46 707-575762
Press kit with high resolution images here
More on the Blue Invest Fund here
Editors notes:
CorPower Ocean
CorPower Ocean brings to market, a new class of high efficiency Wave Energy Converters (WECs) enabling robust and cost-effective harvesting of electricity from ocean waves. The design principle is inspired by the pumping principles of the human heart and offers five times more energy per ton of device compared to previously known technologies, allowing a large amount of energy to be harvested using a small and low-cost device. The CorPower Ocean WEC's unique ability to become transparent to incoming waves provides survivability in storm conditions. The step-change increase in structural efficiency has been achieved through a novel system design and advanced control technology.
About Wave Energy
Harvesting nature's vast resource of energy contained in ocean waves sustainably and effectively will produce 2000-4000TWh per year which equates to 10-20% of worldwide electricity consumption. Wave energy is the largest untapped, and the most concentrated, renewable energy resource which can offer a stable electricity supply both locally, to coastal regions, and on national grid level. The ocean represents the world's most powerful solar battery, naturally storing energy from the sun and winds. CorPower Ocean's WEC takes advantage of the natural time shift between, and availability of, wind and wave resources resulting in a cost competitive electricity production which is grid balancing.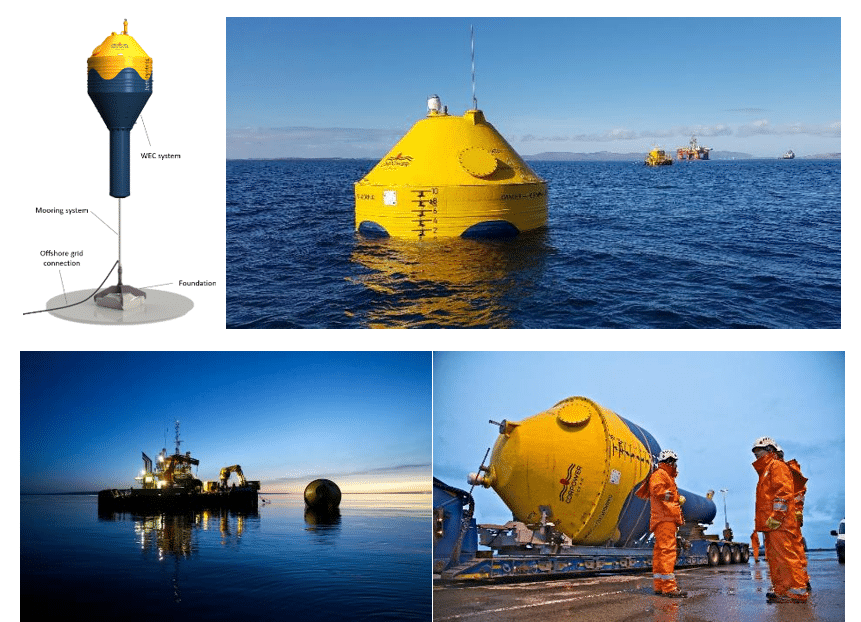 CorPower C3 Wave Energy Converter in Orkney, Scotland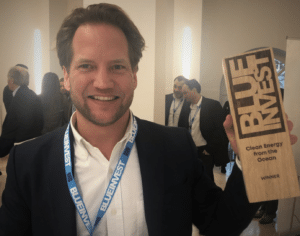 Blue Invest Day winner, CorPower Ocean – Anders Jansson