CorPower Ocean is a global leader in wave energy technology. Its new generation of high-efficiency WECs (Wave Energy Converters) are inspired by the pumping principles of the human heart. Advanced control technology allows large amounts of energy to be harvested using small, low-cost devices. A unique solution makes them transparent to storm waves, which provides survivability in the harshest ocean conditions.
Proceeds will be used to demonstrate the first commercial scale WEC within CorPower's flagship​ HiWave-5 project​ -​ and for the long-term development of supply and service capacity for commercial wave energy farms.
The equity funding, which is combined with public investments that co-fund the program, will support CorPower's pan-European efforts in Sweden, Portugal, Scotland and Norway.
​Patrik Möller​, CEO of CorPower Ocean ​said: "This funding package marks another significant milestone in the firm's mission to introduce a new class of ​​certified and​ ​warrantied WEC products​. We are pleased to see continued strong support from investors who share our vision of bringing reliable and competitive wave energy technology to the world, unlocking one of the largest untapped sources of clean energy on earth​."
The HiWave-5 demonstration project aims to convert CorPower's wave technology into a bankable product by 2024, by proving the survivability, performance and economics of a grid-connected array of WECs in northern Portugal. This will unlock mainstream renewable project financing for commercial array projects developed by our customers. ​
This funding announcement comes shortly after CorPower released plans for a new 16 MEUR (USD 18.1m) R&D, Manufacturing and Service Centre in Viana do Castelo, Portugal. The site will become a core focus for the HiWave-5 project with a showcase pilot wave farm planned in Aguçadoura.
Ingvar Eriksson, BCO of EIT InnoEnergy Scandinavia said: "We have supported CorPower since 2012 and are happy with progress made to this point, having proven the principles and physics of the technology at sea. InnoEnergy has evaluated many ocean energy technologies and found CorPower advancing to a leading position in the race to make it a mainstream energy source. We look forward to the continued journey and are convinced that CorPower can play a significant role in the evolving sustainable energy mix and contribute to the European decarbonization targets."
Andreas Gunnarsson of Midroc New Technology ​said: "CorPower keeps delivering on targets and their prudent step-by-step approach brings credibility to the sector. This technology definitively has the capacity to make the world a better place and we are happy to see more and more of leading utilities and project developers engaging."
Markus Hökfelt of ALMI Invest Greentech​ said: "We see wave energy as a key technology in the transition to a 100% renewable electricity system. Wave energy can become a balancing source that enables high penetration of renewables with the lowest possible system cost​."​
– ENDS-
For further information, www.corpowerocean.com / info@corpowerocean.com
Download release in:   English  /  Portuguese  /  Swedish
Press contact: Sam Pinnington, sam@pressing.co,  Tel: +351 920 256152
A Press kit with background information and high-resolution images can be found here.
About CorPower Ocean
CorPower Ocean brings to market, a new class of high efficiency Wave Energy Converters (WECs) enabling robust and cost-effective harvesting of electricity from ocean waves. The design principle is inspired by the pumping principles of the human heart and offers five times more energy per ton of device compared to previously known technologies, allowing a large amount of energy to be harvested using a small and low-cost device. The CorPower WEC's unique ability to become transparent to incoming waves provides survivability for the WEC in storm conditions.
CorPower's is headquartered in Sweden, with offices in Portugal, Norway and Scotland. The company has received broad backing across Europe, with funders including EIT InnoEnergy, the European Commission, the Swedish and Scottish Governments, Midroc New Technology, ALMI Greentech fund and additional private investors.
About Midroc New Technology 
Midroc New Technology is the investment arm of the Midroc group, with a portfolio focused on deeptech and clean energy companies. Midroc has operations in properties, construction, industry and environmental technology, with 3600 employees and turnover of SEK 6 billion.
About Almi Invest Greentech fund
Almi Invest is Sweden's most active startup investor. The investments are made through eight regional VC-funds and one national GreenTech fund. Almi Invest manages a total equity of SEK 3 billion and has since start invested in over 600 startups.
About EIT InnoEnergy
EIT InnoEnergy is the innovation engine for sustainable energy across Europe. We support and invest in innovation at every stage of the journey – from classroom to end-customer. With our network of partners, we build connections across Europe, bringing together inventors and industry, graduates and employers, researchers and entrepreneurs, businesses and markets. InnoEnergy was established in 2010 and is supported by the European Institute of Innovation and Technology (EIT).
Notes to editors:
CorPower's structured five-stage product verification program is recognized as best practice in the sector. It includes verifying step-by-step that the business case is supported by the physical and economical metrics in each stage from small scale models (since 2012) to full scale array product (by 2024). Dry testing each machine in controlled simulated wave loading on-land to debug and stabilize the machines prior to ocean deployment is a key part of the strategy. It includes a rigorous Certification process with DNV-GL and independent validation of device performance by EMEC and WavEC.
What Makes CorPower technology unique?
The CorPower Wave Energy Converter (WEC) can produce 5 times more electricity per ton (>10MWh/t) than any other known wave technology by combining:
Storm survivability and
Strongly amplified power capture in regular sea conditions.
The WEC has four significant patented features:
Pneumatic pretension system. Makes the device transparent to storm waves, and brings down the required materials by 40% compared to a conventional gravity balanced WEC, reducing CAPEX;
WaveSpring phase control technology, providing 300% increase in Annual Energy Production (AEP) for a given buoy size.
Cascade gearbox technology, enabling robust conversion of the amplified linear motion into rotation with low losses.
Composite hull technology, eliminating corrosion issues from salt water and provides long lifetime.
CorPower WECs can harvest the same amount of Annual Energy from a buoy with 1/10 volume compared to conventional point absorber WEC. [1]. As comparison, a 300kW CorPower WEC has a size of 9x18m and weighs 60 tonnes, where other wave devices may have dimensions of 100s' of meters and several thousand tonnes for the same capacity. Getting large amounts of electricity from a small device significantly reduces CAPEX. The compact lightweight devices are also less costly to transport, install and service, bringing down OPEX.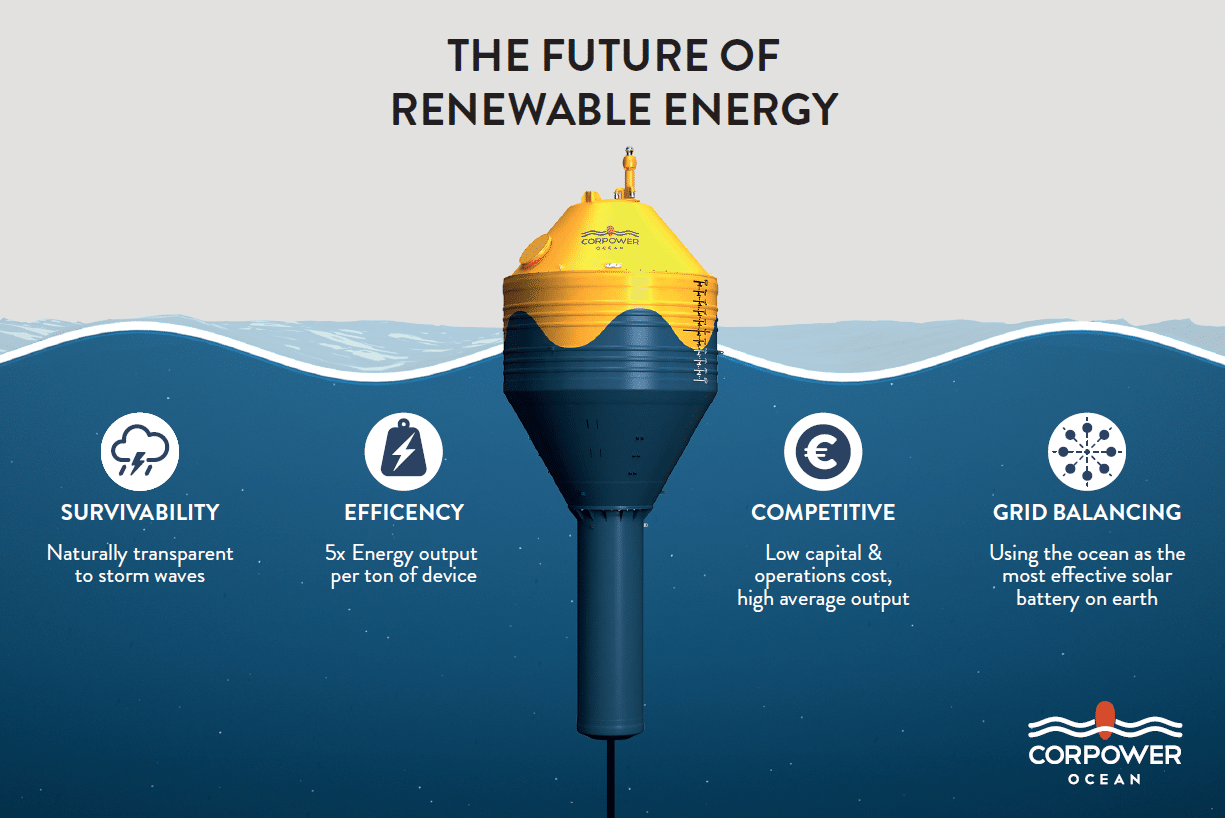 [1] Heaving buoys, point absorbers and arrays, J. Falnes, J. Hals, 2011.