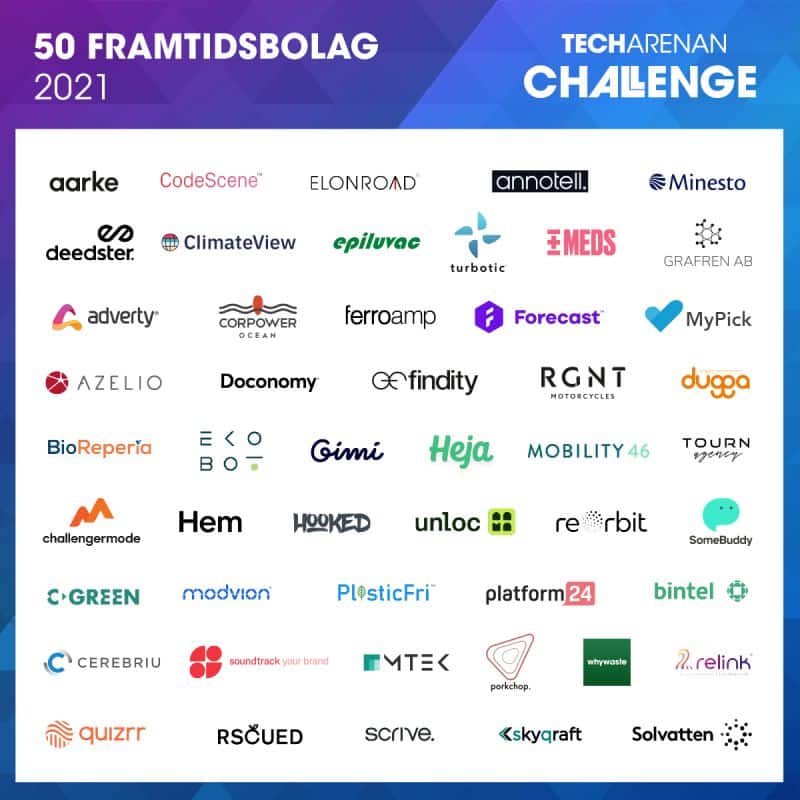 Companies from all over the Nordic region applied for the competition with finalists active in a range of industries including cleantech, mobility, e-health, edtech, spacetech, foodtech, and more.
The entrepreneurship competition, now in its 8th year, is aimed at startups and growth phase firms featuring unique innovations or business ideas with the potential to be commercialized in the global market. Companies were evaluated by an expert jury where great focus was placed on scalability, sustainability and well-defined growth opportunities.   
"This year's final field is one of the most interesting in the competition's history in terms of the major global challenges the companies address and the values they create," said Omid Ekhlasi, founder and competition manager at Techarenan. "It is also impressive to see how many companies have managed to enter the market and attract large customers in a short time. It is obvious that Sweden and the Nordic countries are a breeding ground for exceptional entrepreneurs and companies. Many of the companies have already gained a foothold internationally and created a strong position for further expansion."
The companies will now contend for a series of titles including "Startup company of the year", "Growth company of the year" and "Social Impact Award" in the finals on June 16 and in November. This process involves pitches on site in Stockholm, live streamed on Techarenan.se 
"During the finals, we will see companies operating in completely different industries with products and services that have the potential to change our everyday lives for the better by creating completely new values and behaviours, added Omid. "Many companies have or are in the process of changing their respective industries, creating new standards and improving our everyday lives and our society. I am very much looking forward to taking part in their journey in the coming years."
The winners of the Techarenan Challenge are awarded a place in the winning delegation, which has previously been held in New York, San Francisco, Seoul, Tokyo and Sao Paulo.